If we dive into the relationship of colour, and the way our eyes perceive it, we know that it doesn't exist without light. The way in which light is reflected and its relationship with shadows is how we enhance and create depth within a hair colour and a style. Therefore, addressing hair colour placement and the way it works symbiotically with a style is paramount. This is exactly what our latest COLOR.ME Collection – RADIANT FLUX – is all about. Set in a vintage building in Prague, it was the light that inspired the team, the shades, and the styles.
COLOUR
Hair colour will be shifting this season as it takes a step away from "warm" shades to embrace illuminating gold tones. The techniques are also transforming, with artistic approaches inspired by classic artists. Drawing on structures within the overall style, lights and shadows are deliberately painted to achieve an entirely new attitude. Soft, creamy golds, apricots, iridescent violets, and deep dark blues will all come into play this season as colours are sculpted and shaded into modern radiant finishes.
"Radiant Flux combines new product innovation with influences from fashion for a collection that delivers new service opportunities for the salon and unprecedented results. Never before have we seen colour this brilliant and hair with lasting integrity… until now." – Kate Reid COLOR.ME Design Director 
Developing new colour techniques and experimenting with new shades within RADIANT FLUX, colour captures attention with brightness and natural variations in order to create raw finishes and sculptural definition.
STYLE
The lived-in movement has transcended all aspects of styling, allowing hairdressers to take on more creative approaches in the salon. Moreover, challenging them to design bespoke options, RADIANT FLUX highlights the definition and placement of colour and its relationship to styling. For example, a subtle stroke of colour around the face or a detailed new growth can then turn into a focus within a style. Therefore, crafting an entirely new attitude for the finished look.
Take a peek behind the scenes for some of our favourite products to style your latest colour creations.
JOHANA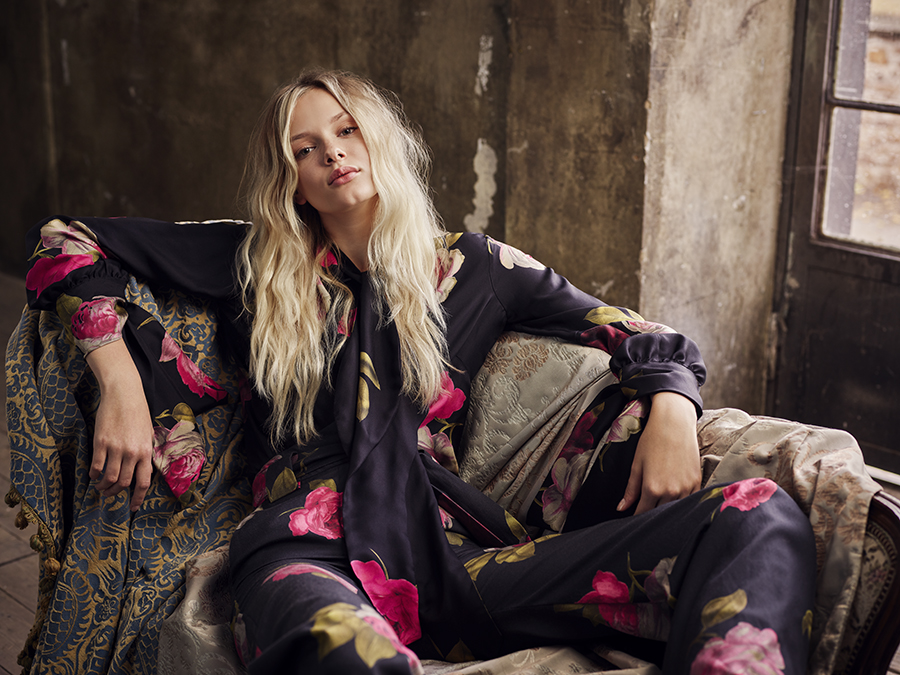 Nordic blonde was created using a variety of lighteners for precise placement in addition to flawless variations.
Products used: STAYING.ALIVE, ANTI.GRAVITY, DOO.OVER, SHIMMER.ME BLONDE
EMMA
Luxe brunettes offer an opportunity to play with dimension. While creating subtle variations that contour and enhance each area it will draw your eye to each detailed piece of hair.
Products used: UN.TANGLED, EVER.SMOOTH, SESSION.SPRAY, SHIMMER.SHINE
VILMA
A neo-pop of APRICOT set to capture your attention. Refined and polished, this colour is created with a mix of TONERS together with new GOLD to give a new dimension of brightness.
Products used: STAYING.ALIVE, UN.DRESSED, SHIMMER.SHINE
To get a better understanding of how colour and style are intrinsically linked, join DESIGN.DIRECTORS Kate Reid and Wade Blackford in New York for their ACADEMY MASTER.CLASS COLOUR.STYLE. Kate and Wade will dive into how to approach the relationship between colour and style. In addition, they will be discussing trending colour formulas and real-life salon techniques to enhance finished results. In essence, after spending the day with these two amazing artists in the heart of the Big Apple, you'll feel inspired and empowered to expand your creativity behind the chair (and the camera).
FULL TEAM
CREATIVE DIRECTOR: Kevin Murphy
COLOUR: Kate Reid, Leland Olson, Emma Bjorkman, Jacob Marek
CUTTING: Pascal Van Loenhout
STYLING: James Nicholson, Wade Blackford, Craig Hughan
PHOTOGRAPHER: Luis Murphy
WARDROBE STYLIST: Emily Ward
MAKEUP: Hristina Georgievska
FILM: Reuben Gates, John O'Rouke